Answer:
This information is visible in the Workflow Approval Path, which displays at the bottom of the form as soon as you Submit. You can also go to any form and use View Current to open it and see the path.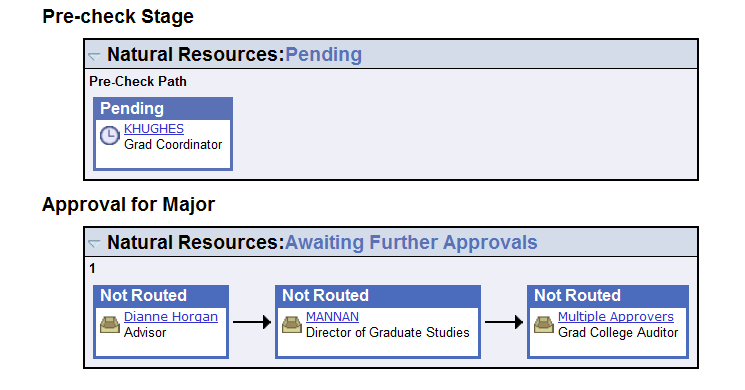 The Workflow Approval Path shows you where the form has been, the action taken, and where it's going. If any approver denies your form, you will receive an e-mail notifying you, and you can open the form to see the message about why it was denied. When someone approves your form, it will route automatically to the next approver.
A single approval step may require more than one person to approve (e.g. co-chairs of a committee), or a step may require one of several people to approve (e.g. at the Graduate College). Click on the blue link in any approval group to see more details regarding the person/people in the group.
Note: The Pre-check Stage section displays if the program has asked that the Graduate Coordinator review and approve forms before they go to faculty. Many departments choose to have forms go directly to the faculty for approval and thus skip this pre-check stage.
Audience(s):
Topic: