We are now accepting applications for the 2021-2022 academic year. Our priority deadline is January 15, 2021. Your academic program application is a separate application and may have different deadlines. Academic application waivers are not available for the Coverdell Fellowship. 

Recently returned or evacuated Peace Corps volunteers interested in a graduate program at the University of Arizona for Fall 2020 or Spring 2021should contact the academic  program coordinator listed in the online Academic Catalog which is the hub for academic program information and coordinator contacts: https://grad.arizona.edu/catalog/

Returned Peace Corps who enroll  in the 2020-2021 year are eligible to apply for the Coverdell Fellowship for subsequent years of their academic program. 

Applicants are encouraged to sign up for our Coverdell Inquiry Mailing List for periodic updates, webinar announcements and more.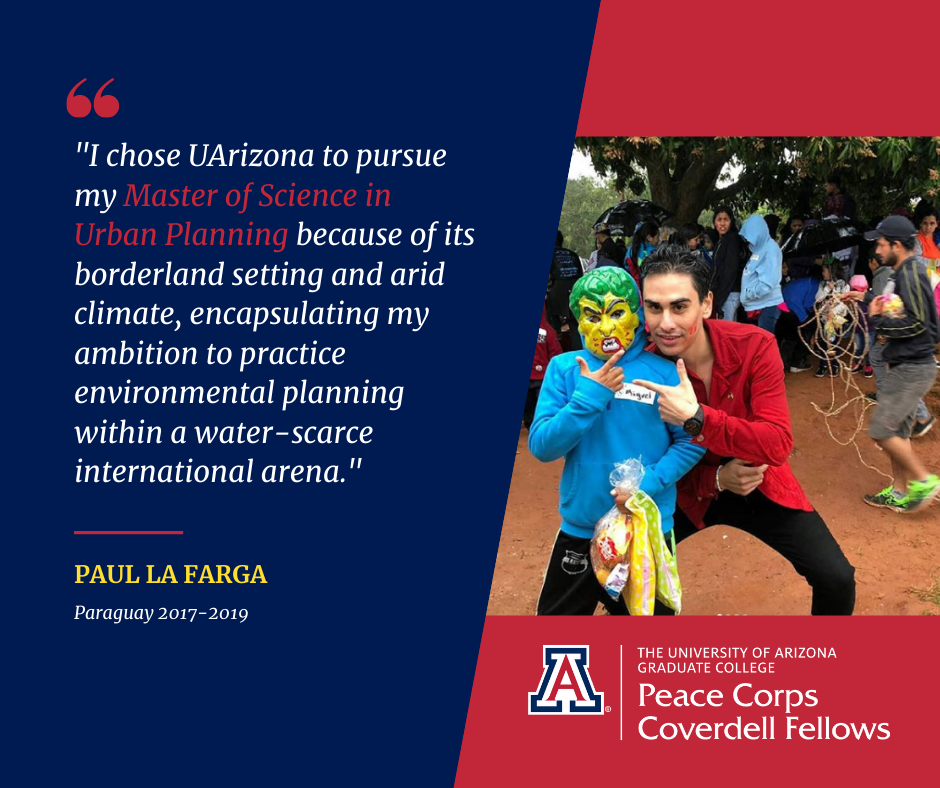 As a Returned Peace Corps Volunteer, you have a wealth of cultural experience that will enhance your academic and career decisions. We are delighted that you are considering the University of Arizona for an advanced graduate degree. Key information for the application process is contained in this section.
PEACE CORPS COVERDELL FELLOW ELIGIBILITY REQUIREMENTS
Who is eligible to be a Coverdell Fellow?
All Returned Peace Corps Volunteers (RPCVs) who satisfactorily complete their service have lifetime eligibility to apply to Coverdell Fellows programs. "Satisfactory completion" means the Peace Corps Volunteer:
Completed the full two-year tour of Peace Corps service, or the full tour minus up to 90 days if he/she/they returned home on an emergency leave;

Was granted "Early Close of Service" 

Was granted "Interrupted Service" status due to circumstances that were beyond his/her/their control; or

Was medically separated
In addition, returned Peace Corps Response (PCR) Volunteers and Global Heath Service Partnership (GHSP) Volunteers who serve a full 12 months are eligible.
This can come through one 12-month tour or a combination of shorter tours.
Who is not eligible?
RPCVs who "early terminate" (ET) from Peace Corps for any reason not listed above, including administrative separation and voluntary resignation
Peace Corps Response and GHSP Volunteers who have not served 12 months with Peace Corps, regardless of the reason why (presuming that they did not already complete a satisfactory 2-year tour through Peace Corps' primary program)
Individuals who are not Returned Peace Corps Volunteers (even if they completed similar service abroad)
 

UNIVERSITY OF ARIZONA  REQUIREMENTS
Admission to a graduate degree-seeking program

Satisfactory annual academic progress

Service to an underserved population in the U.S. or its territories through an outreach assistantship, internship or other work

A total of 350-400 hours of service, outreach,  collective Fellows' service projects and activities per 12-month period for each year of the fellowship
APPLICATION DEADLINES
You must apply for both academic admission and Coverdell Fellows selection. On the UA academic application, do mark Peace Corps Fellows if you are applying to Coverdell Fellows.
Please note the following important deadlines:
January 15, 2021 - Priority deadline for Coverdell Fellow applications

March 1, 2020 - Priority deadline for filing the FAFSA and final deadline for submitting Coverdell applications

Deadlines for academic applications can be found at

Academic Programs

. Contact the graduate program coordinator if a deadline has passed for a program that interests you.
Review Criteria
Applications are reviewed by multiple readers and offers are coordinated with academic units. You must be admitted to the academic program to be eligible for Coverdell Fellows consideration. Applications are read for:
Focus and purpose in academic and professional goals
Dedication to service of underserved communities in the region and skills to meet community needs
Continued dedication to the Third Goal of Peace Corps
Connection and fit with the University of Arizona academic and Coverdell program and opportunities
Demonstrated initiative or leadership
Cultural and developmental maturity in the face of the challenges of Peace Corps, international or domestic aid work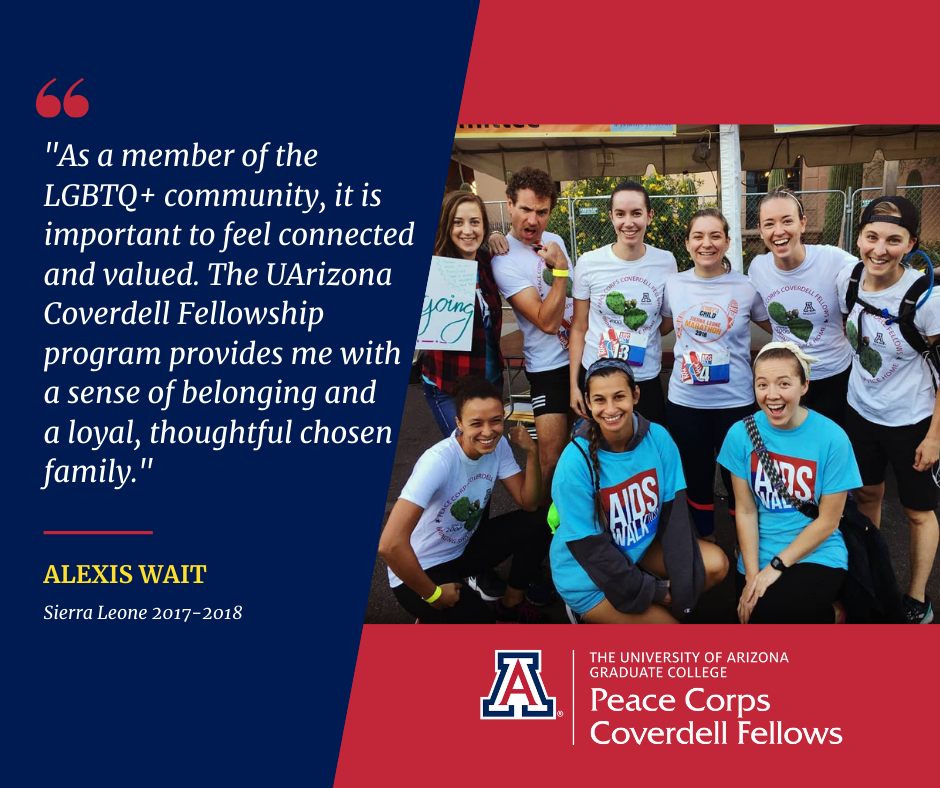 WHOM TO CONTACT
For questions about the academic program, research faculty, grades, GRE scores, or graduate assistantships contact the departmental Graduate Admissions Coordinator.
VIRTUAL VISIT
The Coverdell Fellows staff welcomes the opportunity to meet with you by phone, zoom or webinar to discuss your Coverdell Fellows application. Contact us by email to arrange a virtual meeting.