Using the GradPath Pending Transactions Page
For Staff (or faculty using Administrative Staff log-in)
Log into UAccess Student via the Administrative Staff log-in, then navigate to
Main Menu -> Academic Advisement -> UA Graduate College Forms -> UA GradPath Pending Trans.
Once this page loads, it will default to the "My Forms" tab, which shows all GradPath forms currently awaiting your action. You can sort by any column by clicking the column header (on this and other tabs).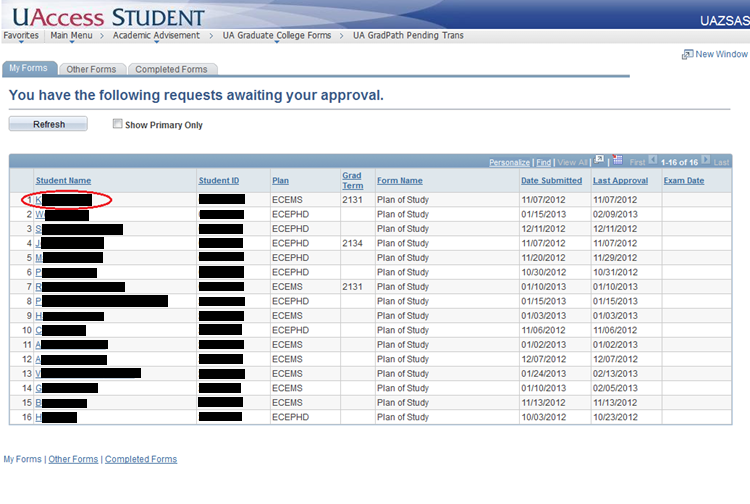 You can open a form by clicking the student's name. The form opens in a new window, where you can take any needed action.
Once you are done with the form, simply close the window, and you will still have the pending transactions page open. By clicking "Refresh," you can refresh the list so that "My Forms" shows only the remaining forms that need your action. The "Other Forms" tab shows all forms in GradPath for students in your program(s) that do not yet have final approval or denial. Here you can see what the form is, when it was last approved by someone, and whose decision is currently pending. This will help you keep track of forms that are awaiting faculty or Graduate College approval.
The "Completed Forms" tab shows forms you have acted on that now have final approval or denial.
Note that you can click open any form listed from any tab on this page. And clicking the "Refresh" button on any tab will update all three tabs to show the current information.
Audience(s):
Topic: